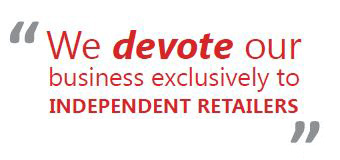 Our Mission
Our mission is to build upon CLF's position as the wholesaler of choice to the independent healthfood trade by reinvesting financial gains in our people, our industry and our planet. Our motto is 'in it together'.
Our People
The team at CLF underpin our success. Longevity of service by each member of staff ensures continuity of service for our suppliers and our customers alike. CLF value our employees by investing in them by having adopted an ethos of fair pay. The CLF minimum wage is set above the national living wage for all employees irrespective of age, we care for our staff and their families.
Our Industry
CLF fill the logistical gap between our customers and suppliers by delivering products accurately and 'Just in Time' supported by weekend and evening deliveries, customers can even have a same day delivery on some van routes. Continued investment into our state of the art IT system helps reduce cost throughout the supply chain by driving efficiencies. This year has seen the launch of new initiatives such as interim ordering and stock reservations helping to improve security of supply. This keeps consumers coming back into stores whilst building a stronger relationship between CLF, our retailers and our suppliers. We devote our business exclusively to independent retailers and refuse to supply corporate giants such as Amazon, Holland & Barrett and other mass market grocery chains. This statement has been subjected to audit scrutiny by Smith & Williamson and hence validated.
Our Planet
Environmentally friendly initiatives are at the heart of what we do. Our reusable tote box system was launched in 2009 and is still running today. Since then we have introduced new fold down tote boxes to further reducing packaging waste. Our chilled and frozen insulated box system allows temperature controlled deliveries without the additional energy required to run temperature controlled vehicles, often operated with partial loads. Technical cold packs are used to maintain the cold chain delivering goods to our customers with the lowest possible carbon footprint. We all care about our planet.